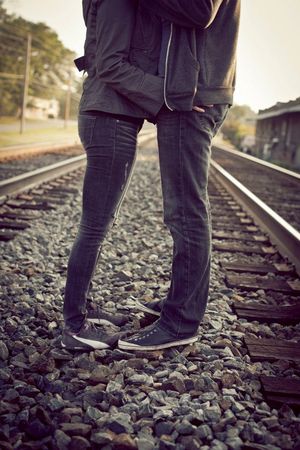 Let me start by saying how much I love being married to a musician. I love the creative energy. I love the quirky antics that go along with being artistic. I love that my children will grow up immersed in music. Even more so, I love being married to a Christian musician that uses his talents to advance the Kingdom of God. I love the tone this sets in my home. I love the atmosphere of worship that constantly surrounds me. I love the legacy he leaves behind. 
HOWEVER, I wanted to offer some perspective from a Christian music producer's wife. For the past several years, I have lost my identity as "Crystal". My introductions always include the caveat "I am the worship pastor's wife or I am Sean's wife." Don't get me wrong, I do get a little giddy when I get to say "I'm with him", but it does strip me of who I am apart from him. It minimizes what I have to offer the world when I can't just be "Crystal". 
That caveat always leads to the following questions: 
Do you sing? Do you play an instrument? Do you write music? Are you even artistic? What skills do you bring to the table… Dance pony, dance! 
I have to be honest, when I am hit with this barrage of questions, I immediately feel deflated. My skills and accolades immediately become reduced to pity for myself, because my skill set is not as easily recognized. I don't have a talent that makes people say "oh cool" or "I have always wanted to do that" or, my favorite one, "are you famous?" Hah. 
After I recover from my pity party, I realize that I have a lot to contribute. God created me with the exact talents and natural ability I need to advance His cause. My job is to discover these traits and figure out where I fit in the puzzle. 
I used to make the mistake of thinking that if I can't contribute to the creative content of my husband's music, then I just could not be a part of it. I have learned that my role is much more important than writing a melody or giving lyrical suggestions. 
The Bible says "The wisest of women builds her house, but with her own hands the foolish one tears hers down." (Proverbs 14:1) I want to encourage the spouses of those in the Christian music industry to discover what part you play in being an influence. You have the power to either build up your spouse or tear him down. Therefore, I have compiled a list of five things that I can do to "be involved" in my spouses' ministry and to "build him up". 
Pray 
Understanding the purpose of your spouse's affinity for music begins when you posture your heart to align with God's plan. When we first opened the studio, the only thing I really knew was that Sean was good at music and he could make money doing it. I did not understand the magnitude of what God had called him to until I really began to pray for him. God revealed to me that He gave Sean these talents and He wanted to use them for His good. It was not about "making a living" or Sean getting to do what he loved. It was about building up another soldier in God's army. Once, I fully grasped the importance of Sean's career in music, it became more and more crucial to pray for him. If you do not do so already, I would like to encourage you to pray these simple prayers over your spouse. 
Father, may the favor of the Lord rest on my husband. Bless and establish the work of his hands and his heart. (Psalm 90:17) 
Father, give my husband the mind of Christ, saturate it with godly wisdom. (1 Corinthians 2:16) 
Encourage 
"Do you see a man skillful in his work?  He will stand before kings; he will not stand before obscure men." (Proverbs 22:29) 
We must first recognize the skill that God has given to our spouses. Scripture says that skillful men will stand before kings. God will give a platform to the "called" if they would only humbly and freely use their talents for the purpose of spreading the Gospel. I believe it is our job as a spouse to encourage our husbands to continue maturing in their craft. We need to speak life over the works of their hands and push them to pursue all that God has for them. 
Here is a starting place for you to start breathing life into your spouse. "As a prisoner for the Lord, then, I urge you to live a life worthy of the calling you have received. Be completely humble and gentle; be patient, bearing with one another in love." (Ephesians 4:1-2) The power of life and death is in the tongue. Are you using yours to spring forth life or to kill and destroy? 
Time And Space 
I have a note in my phone from May 2014 that says "I empower you to do what God has called you to do. Release Sean to do what he is called to do." 
Now this was three years after we followed God's instruction to open a Christian recording studio out of our home. It took me THREE YEARS to fully understand that God called Sean to create music to advance the Kingdom of God. To be honest, there were times that I just felt like he was up in the studio playing around and I was jealous. He got to spend all day everyday doing what he loved. So I was constantly trying to pull his attention back to me. 
In Scripture, James 2 instructs us to act on our faith. We can lift our spouse up in prayer and encourage him with our words, but if we do not also act on our faith in what God is doing through them, then we are useless. What this meant for me was that I needed to give Sean time and space to invest in this career. Sometimes this meant I had to entertain myself while he worked late. Other times it meant I had to agree to spending hard earned money on upgrading studio gear instead of taking vacation. Whatever it was, I had to make sacrifices and lay down the selfish desires of my flesh to allow God to work in and through Sean. We, as spouses, have the power to either propel our husbands/wives into God's plan or to be a road block that they have to work around to answer the call on their lives. I chose to help rather than hinder and I hope you will join me. 
An Alternative Perspective 
I enjoy music. Because I am not a musician, I don't have the curse of "having" to listen to music. I just "get" to listen to music. With this, I am able to offer perspective from the vast majority of the world. It is so easy for musicians to get bogged down in the chord progression, BPMs or rhyme scheme of a song. I just know what sounds and feels good to me. If a song is too hard to sing or the lyrics are not memorable, I say so. Giving this feedback has really influenced the way Sean writes worship music. Most of the people in the congregation are not musically inclined, so if the song is too difficult to learn or sing, it makes it hard to worship from the heart. We are so busy reading the lyrics from the screens and trying to learn the melody, that we don't let the actual "truth" of the lyrics sink in. (That is a topic for a different day.) My point is, you don't have to be a trained musician to offer input on the songs being created for the Church. Luckily, I have a spouse that welcomes this input and I pray that yours will too. 
Change The Subject 
Have your own interests, your own passions, your own hobbies. This allows him an escape from the perpetual ideas swirling around in his head. It is so important to be able to offer a distraction from time to time to a creative mind. If Sean were left to his own devices, he would never stop thinking about music. He must be able to turn that part of his brain off in order to recharge. That's where I come in. Because I am not a recording client or a co-writer, he is forced to explore other topics of conversation. In these various discussions with me, he discovers different truths and perspectives to use in his song writing…. Or not. Sometimes it is good to stop thinking about work and to just be in the moment. 
We recently went to the beach and Sean and I had the EXTREMELY RARE opportunity to go on a date without our two babies. After dinner, we went for a walk on the beach and discussed life. We talked about our kids, our future, our finances and of course our jobs. We were all dressed up for our date and certainly not prepared to go for a swim. Sean is much more cautious than I am, so I decided to remind him what it feels like to be carefree and I just ran into the ocean fully clothed in my best dress. I yelled for him to come and join me and after a few minutes of hesitation, he reluctantly followed. It was so nice to just stop thinking about the responsibilities of life and just enjoy each other's company. Now I know that this little escapade did not inspire any ground-breaking song ideas, but what it did was allow Sean to remember that although God called him to be a songwriter and leader in the Church, He called Him to be a husband first. 
I believe God ordained the marriages of His people and by no accident gave me a spouse that has a high calling on his life. He knew that I have the capacity to sharpen my husband and help inspire him. I know my role. I know what I am supposed to do. I know that it is not about me and I am ok with that. I find great solace in Lecrae's song "Background"… 
Yeah, so if you need me I'll be stage right 
Praying the whole world will start embracing stage fright 
So let me fall back, stop giving my suggestions 
'Cause when I follow my obsessions, I end up confessing 
That I'm not that impressive, matter of fact 
I'm who I are, a trail of stardust leading to the superstar 
I could play the background 
I could play the background 
Cause I know sometimes I get in the way 
So won't You take the lead, lead, lead? 
So won't You take the lead, lead, lead? 
And I could play the background, background 
And you could take the lead