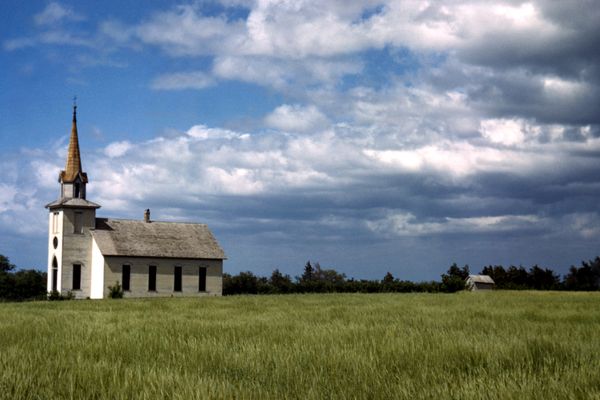 Over the past several months I've read an increasing amount of blogs and articles that are detailing what bloggers would say is the decline and ultimate demise of Christian music.  In particular these articles take square aim at songs sung within The Church.  Each article takes different aim at "modern worship".  Some articles attack the skinny jean wearing worship leaders.  Some fault the Christian worship "industry".  Some blame the major "superstar" worship artists that carry the songs.  Some attack songs themselves.  Some try to convince you that congregations aren't singing for a myriad of trivial reasons.  While others attack lights, sound, and church production.  Whatever their particular angle, their main premise is the same… Christian music is dead or dying. 
Then I scroll down and see the subsequent stone throwing in the comment sections these articles tend to stir up.  People are seemingly being forced to take sides in a fictional "worship war" started by bloggers that are merely hoping to increase their readership with their provocative articles. 
And not just for bloggers, but for a people that believe "the power of life and death is in the tongue" we sure find it fashionable, as of late, to really speak negatively about our worship music. 
Why would we write that kind of script for ourselves? Why would we willingly want to speak DEATH over one of the most powerful gifts God has given us to express ourselves back to Him??? 
I'll be honest.  At first this "bash worship" mindset that seems increasingly popular made me angry.  I was mad at the writers.   I was mad at the comments.  I was mad at the supporters jumping on the bandwagons.   
But slowly my anger turned to sorrow.  This whole situation truly started to break my heart.  How shameful that we've taken a gift as beautiful as music and made a sport out of speaking ill of it.  We've made it a debate of style and preference.  All the while, we run about trying to believe worship is more than just songs. 
In the current world of chaos we live in, people look to us as Christians for answers and for hope, but oftentimes we are too busy bickering!  They see heaps of opinions being volleyed at each other in an endless match where no one will ever win. How could the world look at us and not see a conflicted church that would rather argue over the appearance of a worship leader and song selection than serve their community? 
But I'm hopeful, because I know there is still a silent contingent out there that is ready to move passed the squabbling.  Me included.  And hopefully you too.  I believe we are the ones to end this war.  We can slowly show people that we are not in a tug of war against each other, but we are on the same side of the rope pulling together to take music back for the Kingdom of God. 
Because we need to admit that modern worship music is not dead or dying.  Maybe we can all concede it's not glimmering perfection, but there is no perfect song.  The sum of the greatest hymns of all time fall wildly short of giving God the glory He is due. 
Whether you want modern worship music to die or not, it's not going anywhere anytime soon.  No amount of bloggers are going to change the mind of thousands and thousands of churches who have collectively chosen to use modern worship as a staple in the worship gatherings.  Modern worship music is sung all over the world… daily.  It is simply a part of church culture. 
So I have come up with a simple set of challenges that I think may be useful no matter which part of the spectrum you find yourself on in this dilemma. 
Challenge 1: If you believe something is fundamentally "wrong" with our current paradigm of worship music, start writing worship music.  Don't run first to find a stone to throw at your church, worship leader, or worship songs.  Use your energy as fuel to write and be creative.  Try to influence worship music (from the inside) in the way you feel God is showing you.  Trying to throw peanuts (and encourage others to throw peanuts) from the grandstands is a real waste of good breath that could be used instead to sing and write songs. 
Challenge 2: Run from the temptation to speak death over worship music.  Refuse to get involved in comment sections.  Don't entertain the people out there hoping to pick a fight… especially a theological one.  It IS POSSIBLE to read something and then quietly move on, even if you disagree.  Don't perpetuate the very thing you are hoping to shut down.  Whether that be online, in a green room, or in a coffee shop with friends, have the maturity to walk away from conversations that are not life giving.  Start praying and speaking life over Christian music.  'Pray????  What a ghastly suggestion'.  Pray for the people who write it.  And to those who record it, lead it or perform it, start praying.  God has a way of changing your heart through prayer. 
Challenge 3: Have HEALTHY debates (not in a public forum).  Find people close to you to debate and wrestle down thoughts, ideas, and criticisms.  Sit around a fire.  Cook up some s'mores.  Stay up til 3AM debating til you pass out.  Voice your opinions.  Get them on the table.  See how people respond.  Discover the HEART and MOTIVATION behind things.  Some of my all-time favorite and most life-giving conversations about God and worship have been around a fire pit with friends in my backyard… not online.  Call it a "small group" if you need to be formalized.  The point is, get around in a circle with people (who hopefully have some differing opinions from you) and just wrestle things together.  Iron sharpens iron, right? 
I still believe in Christian music.  Maybe that's not the popular eye-catching kind of blog title that gets a rise out of people.  But I believe in the people God has promoted to places of influence.  I have had the honor to talk with  many publishers, labels and artists during my relatively short music career thus far, and I truly feel that they are chasing what God is putting in their hearts.  Worship songs are springing forth from more churches and writers than ever.  Churches are finding their voices.  The Bride is singing.  And it's beautiful.  Let Her sing. 
And so, Gungor with the closing thought. 
 
"Church Bells" 
Let church bells ring 
Let children sing 
Even if they don't know why let them sing 
Why drown their joy 
Stifle their voice 
Just because you've lost yours 
May our jaded hearts be healed 
Amen 

Let old men dance 
Lift up their hands 
Even if they are naïve, let them dance 
You've seen it all
You watch them fall 
Wash off your face and dance 

May our weary hearts be filled with hope 
Amen 
- Gungor